Navigator
Auto Resources
Latest Catalogs
Tags
News
Volkswagen Scirocco Remis

19/06/2009 21:41

admin

27860

Global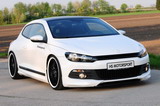 The Volkswagen Scirocco Remis is a tuning special edition made by HS Motorsport on the base of the 2.0 TSI version. Scirocco Remis develops 290 hp (90 hp more than standard) thanks to an SKN power kit, a new air intake and exhaust system. Upon request, the power of the can be increased to 320 hp.
The Volkswagen Scirocco Remis also comes equipped with an H&R coilover kit, a Brembo Grand Turismo brake system. The body kit of the Scirocco Remis includes new carbon fiber front and rear bumpers, side skirts and black matte roof.
The interior of the includes Recaro Sportster CS heated seats and other leather accents.