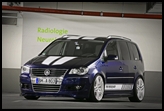 If you think after you married and have two or more children you are bound to drive the family van and need to dump your favorite hobby - tuning, then you are wrong. From MR Car Design are not on the same opinion and they prove it with one of their last works.
Tuning program is suitable for Volkswagen Touran facelift (2007-2010) and It incorporates work on the exterior like placing the spoiler under the front bumper, revised rear fascia and new side skirts. 20-inch wheels model RS were installed. The suspension is entrusted to the company Weitec.
For the technical part tuning specialist from MR Car Design offer a remapped ECU, new larger intercooler and a sports exhaust system. The end result is 220 hp and 457 Nm of torque.
The bad news is that the following list must somehow be reconciled with your wife:
Decorative cap: € 299
Front spoiler: € 249
Rear Bumper: € 330
Sports Suspension Weitec: € 749
Alloy wheels RS: € 1399
Intercooler: € 599
Sports Generation: € 1150