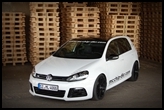 Germany based tuners from Mcchip have created a new set of upgrades for the most powerful Golf in Volkswagen's line-up – Golf R.
By remapping the ECU the car now outputs 315hp that is almost 17 percent increase from the stock 270hp. The ECU upgrade will cost you $1,150.
For those looking for more style Mcchip offers a set of H&R springs for $449 installed and set of black shaded 19-inch OZ Ultraleggera rims fitted with high-end sport tires Michelin Pilot Sport Cup 235/35-19 for about $4,100.
The price for the whole package is nearly $5700.