Navigator
Auto Resources
Latest Catalogs
Tags
News
Volkswagen Scirocco by RDX Racedesign

10/08/2010 14:03

admin

6527

Global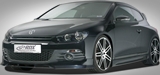 RDX Racedesign, a German tuning house has created a sporty and dynamic package for the Volkswagen Scirocco.

For the price of €686 you receive TUV-certified parts that gives the car racier look. The body kit includes a front apron, beefier side skirts, headlamp covers, a rear apron that incorporates a protruding diffuser and an extra-large roof spoiler.

All components are made from thermoplastic and this helpes to keep the car weght low.