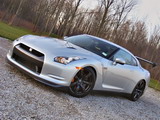 The Nissan GT-R is an impressive performance vehicle, as it comes with a 485hp turbocharged V6 engine in all wheel drive and weight of 1725kg. And weight is exactly what one lucky GT-R owner thought was the problem for his car. The guy wanted a car that both he and his wife could drive on public roads and go out to dinner with while still making excellent times on the track.
Switzer Performance decided to take on the challenge.
The tuner installed its previously developed P800 kit, coming with new intercoolers, intakes and turbochargers and boosted the car's power rating to 800hp. But this was not enough.
They put the whole car to a diet that includes AP carbon rotors, a lighter ceramic-coated titanium exhaust system, a dry-carbon deck-lid, and lightweight Bride sports seats
"We chose these seats because of their adjustability. You can be comfortable, still get to the back seat, and it's not an extreme one-piece seat that's not comfortable on the highway."
The result is lightening the car by 90 kg
Switzer's P800 upgrading package is now available for everyone via its network of dealers.