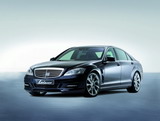 The 2010 Mercedes-Benz S-Class has been on the market since 2009 and features engines ranging from compact V6 petrols and turbo diesels to a mighty bi-turbo AMG V12 with 603hp.
Now a new Lorinser body kit for the facelifted 2010 model is available for sale. The kit includes a new front bumper with a new spoiler, a small roof spoiler, a boot lid wing, discrete rear diffuser, side skirts and of course the typical Lorinser side vents.
Wheels are Custom RS8 provided in sizes 9x21 at the front and 10x21 at the rear.
For more sporty sound, sports mufflers can be inserted.