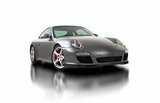 The V-GT edition heritage continues onto the latest facelifted MKII Carrera models starting in 2010. An all-new aerodynamic package is both simple and elegant enhancing the design of the factory body lines without compromising quality and performance. The V-GT aero package will be available for the Porsche: C2, C2S, C4, C4S, Targa 4, Targa 4S & Cabriolet models.
Up front end the V-GT Carrera shows off a functionally designed front add-on spoiler constructed of pre-preg autoclave carbon fiber. The V-GT front spoiler extends the profile of the factory front bumper to improve downforce at high speeds and also houses integrated dual brake duct openings with a black protective mesh grill.
The rear end is complemented with a sporty carbon fiber rear add-on diffuser that fits perfectly over the factory rear bumper cover. The V-GT rear diffuser enhances the muscular appearance of the rear with 3 integrated diffuser fins paying homage to the racing history of the Porsche 911 series.
Optional items to complement the V-GT enhancements for the Carrera MKII is a carbon fiber roof replacement which removes the factory sunroof saving 47lbs off the top of the vehicle and 19 & 20 inch forged wheels.
The V-GT aero package will be available worldwide starting in January 2010 through select authorized dealers.