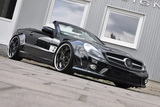 Inspired by the Mercedes-BenzSL65 AMG Black Series, Prior Design has come up with a kit to make a stealth, black monster out of the SL R230.
The new kit features an aggressive front fascia for the SL R230, including a massive fender with a spoiler and integrated large air intakes. The car's main change is its massive flaring fenders that widen the wheel arches to provide a ready-to-pounce crouched look. A rear bumper connecting the two rear arches and a rear diffuser round out the kit's features. Prior Design also has a lowering kit for the car, both mechanical and an electronic one that includes Airmatic.
PDI rims in 10x20 inch (265/30R20 tires) for the front and 12x20 inch (305/25R20 tires) for the rear wheels complete the shape-shifting tuning kit.