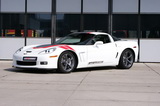 Thinking that the 436-horsepower Corvette Grand Sport was under powered Munich-based Tuner GeigerCars released a new performance package, for the 2010 American muscle car.
Thanks to the GeigerCars, a supercharger with a fat 2.3 litres capacity sits on top of the eight-cylinder engine, which itself exhibits a volume of 6.2 litres. The result is a growth in the power of the Corvette to an awesome 588hp and torque of 738Nm. This enables the car to accelerate from 0-100km/h in under 4 seconds and has a top speed of 337km/h.
The Grand Sport impresses both aesthetically and technically, with wider front and rear fenders with additional vents, to accommodate the larger brakes of taken from the Z06 with its 355 mm, six-piston discs at the front, and 340 mm, four-piston discs at the rear. The front diffuser and larger rear spoiler are also borrowed from the Corvette Z06. Sway bars, shock absorbers and springs have also been overhauled in addition to the six-speed transmission, while a dry sump oil system and differential cooler are also on board. Optimum road contact is guaranteed by the 18 and 19 inch light alloy rims, with 275/35 and imposing 325/30 tyres.
To finish the performance package GeigerCars added a custom paint scheme reminiscent of the special Corvette raffled by the Corvette Museum at their 15th Anniversary last Labor Day. Corvette Racing's mascot Jake is front and center on the hood and an attractive red border surrounds it.