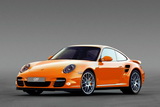 9ff has unveiled the new tuning packages for the Porsche 911 (997) Turbo facelift.
The available packages are four - DR530, DR580, DR640 and the DR700
The top level package DR700 features controlled via a cabin-mounted switch adjustable exhaust, 9ff tailpipes, sport catalytics, a high performance air filter, new intercoolers, a unique intake manifold, revised exhaust headers and a upgraded ECU.
Other goodies include 9ff turbochargers, a new camshaft, revised connecting rods, and an optimized transmission - manual or PDK.
Thanks to the changes the DR700 Porsche Turbo outputs 690hp. 3.2 seconds is the time for the 0 to 100km/h and 0-200km/h - 23.0 seconds.