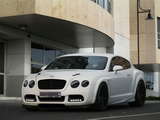 Bentley
Continental GT received treatment from Irish tuner Onyx Concept. It features new styling and more horsepower from the engine.
The conversion consists of a revised front bumper with carbon fibre inserts, LED daytime lights, a carbon fibre lower splitter. The sides have been widened with some clean cut arches and matching sideskirts, a revised rear bumper and rear carbon fibre difusser and boot lid.
Onyx installed their own suspension kit that lower the car over the 22 inch TPM matte black wheels.
The Onyx Bentley
Continental
kit could boost power to around 640 bhp from the standard 553 bhp.
The package will be on the market from may this year.