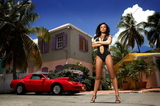 A new calendar featuring
Miss Tuning
2009, Martina Ivezaj, is now available. The printed edition will be limited to just 1,500 copies.
After being crowned champion of the competition held at Tuning World Bodensee, Ivezaj posed for reknowned photographer Christian Holzknecht in the British Virgin Islands.
"The calendar incorporates the many different facets of the British Virgin Islands, and shows both noble motives and typical Caribbean scenes and beaches," said Holzknecht.
Orders for the calendar can be placed at tuningworldbodensee.de. If you do not want to spend €25 on the item, feel free to click through the photo gallery here as often as you wish!