Porsche Panamera GrandGT by TechArt
28/11/2010 12:08 - admin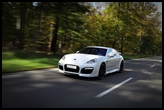 TechArt well known as a major tuner for Porsche has made it again with the Panamera.
The debut of a fourdoor tuned sports car is scheduled for the Motor Show in Zurich next month.
For the technical part of the TechArt Panamera tuners have used previous package called TA 070/T1, which adds additional 79hp to the 493hp that 4.8-liter engine twin turbo produces . Torque is also increased. Instead of the standard for motor 700 Nm, the car now handles 830 Nm. With these new values GrandGT accelerate from 0 to 100 km / h in 3.8 seconds. The transmission of power to the wheels is entrusted to the standard PDK gearbox.
To GrandGT however received a new look. It is due to the installed new bodykit that widen the car with 21 millimeters at the front fenders and 42 millimeters at the rear. It also includes a new front bumper with larger air intakes to improve engine cooling and a new hood. LED daytime running lights system has been integrated into the bumper.
Sport exhaust, ending with two oval twin tailpipes is also branded TechArt.
Customers can choose between 20 and 22 inches alloy wheels.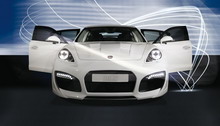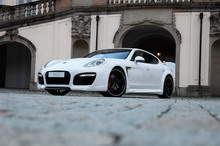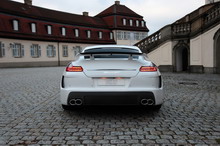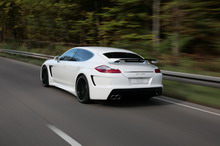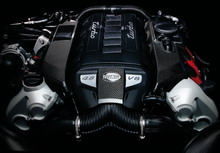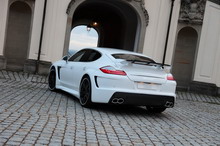 http://www.tuning-links.com/news_860_Porsche+Panamera+GrandGT+by+TechArt.html