Audi Q7 by Project Kahn
10/11/2010 12:47 - admin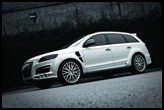 Inspired of their project
Range Rover Sport RS600
released earlier this year tuners from Project Kahn decided to use what they've learned for their new project. It is based on the Audi Q7 and comes with both exterior and interior changes.

For the exterior tuners fitted an in-house wide body kit which includes front wing wheel arches with vents. There's also a set of well known 22-inch Kahn RS-X wheels. The German SUV is dressed in Pearl Soft White paint.

The interior has been done up with a Kahn's quilted leather along with red stitching which makes it even more attractive. The speedometer and the other dials on the car have a red accent color added to a subdued cream color. Project Kahn Q7 comes with a panoramic glass roof.

The package is priced at €64,892 which includes €13.691 for the accessories.
http://www.tuning-links.com/news_857_Audi+Q7+by+Project+Kahn.html