Mercedes SLS AMG by FAB Design
22/10/2010 13:47 - admin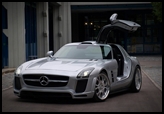 Ever since its official launch, the Mercedes SLS AMG received many tuning packages – some of them stunning,some not so much. Well it was about time from FAB Design to release their tuning package for the Merc. We are not pretty sure in which group it belongs. It is up to you!
On the outside, the Swiss firm installs an aggressive body kit that consists of a revised front fascia, front spoiler lip, side skirts, a hood scoop, tail spoiler, new diffuser and tailpipes, and very improper air vents beneath tail lamps. Other goodies include LED daytime driving lights, a new set of 20" Evoline wheels and sport suspension.
For the performance part FAB Design equipped the 6.3-liter V8 engine with a stainless steel sport exhaust system. Thanks to it the engine outputs 603hp. and improve the sprint from 0 to 100 km/h by 0.1 seconds.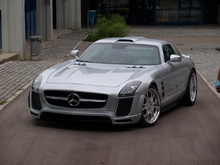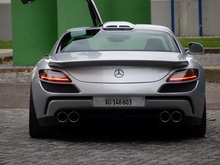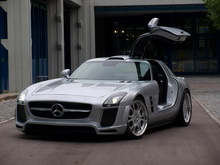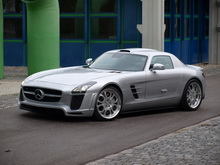 http://www.tuning-links.com/news_855_Mercedes+SLS+AMG+by+FAB+Design.html