Mansory Bugatti Veyron Linea Vincero d'Oro
30/08/2010 22:32 - admin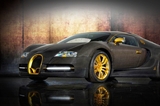 So you are one lucky guy and you own Bugatti Veyron, but this is not enough for you. Luckily for you there is Mansory and their product: Linea Vincero d'Oro. Now it is certain that you will be noticed.
Based on the 2009 Linea Vincero, the d'Oro comes even more "shinier"
The key difference if you haven't noticed, is an incredible golden shine thanks to special carbon fiber fabric with copper threads. Other gilded accents include the wheels, grille, door handles, and fuel cap. The package also includes shortened hood, a revised front apron, modified fenders, new LED daytime running lights, side skirts, and a new diffuser.
The interior keep the gold and black line, featuring custom LED mood lighting embedded into the dash, door trim, and seats. The steering wheel and shift paddles have been ergonomically designed to be both functional and interesting.
In the engine bay, Mansory increases horsepower output of the 8.0L 16-cylinder engine through a cold air intake and tuned exhaust system. This takes horsepower from 1001hp to 1109hp.
No information on pricing, but production is limited to one unit…….thank God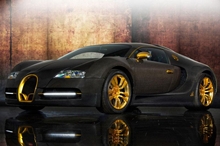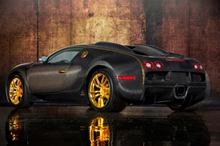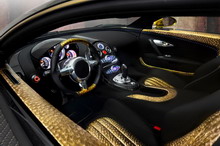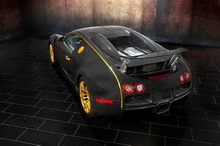 http://www.tuning-links.com/news_843_Mansory+Bugatti+Veyron+Linea+Vincero+d%26%23039%3BOro.html