Porsche Panamera by Hofele Design
06/08/2010 15:43 - admin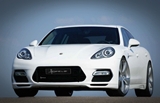 Well it was about time for Hofele Design to release their vision for the Porsche Panamera. The project is called Rivage GT 970 and features remodeling all around the exterior, as well as refinements to the car's interior.
The exterior changes includes a new front bumper with larger air intakes, front grille from a Cayenne Turbo, LED daytime running lights and turn indicators and at the back Hofele has come up with two air vents Audi R8 style There's also a new diffuser here as well as a fixed wing and performance muffler of stainless steel for a sporty sound.
Hofele offers a choice of 22-inch rims in a variety of colors and finishes, as well as an electronic lowering module that adjusts the ride height according to your speed, to provide maximum comfort and proper handling. Sport brakes with six-piston calipers and cross-drilled discs are also available.
The Porsche Panamera Rivage GT 970 interior offers for its passengers bi-color quilted leather, available in many color choices, and on any seating configuration. The matching leather can be used for the door inserts as well. The company's team may also be able to cover other items on the car in the material, if desired by the customer.
http://www.tuning-links.com/news_838_Porsche+Panamera+by+Hofele+Design.html