Seat Leon Cupra R by JE Design
02/08/2010 10:49 - admin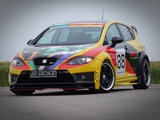 Inspired of the battle of the nations: 2010 FIFA World Cup German tuner JE Design along with German dealer of Seat cars, Claus Kobia teamed up to make a very special version of the Leon for Germany! Called Seat Leon Cupra R Deutschalnd the car is based on the hottest model from the Spanish manufacturer.
To give the car the look of added sportiness, a wide body package was installed, that includes subtle wheel arch extensions, a new front spoiler with large air intakes, headlamp mask, a new center spoiler, new side skirts, rear apron, central diffuser insert, and a powerful rear wing with recessed logo. The JE DESIGN Kobia Seat Leon Cupra R also comes with new LED daytime running lights, 18 inch glossy black rims and 255/35 R 18 tires. To round out the look, the car was dropped by 40mm.
The original 2.0 L TFSI engine was boosted up to 310hp. With the extra power under its hood, the JE Design Kobia Seat Leon Cupra R is 0.3 seconds faster to 100 km/h than the standard version. It needs 5.9 seconds to reach the mark from a standing start. The top speed has been increased too up to 260 km/h.
The R Deutschland package from JE Design and Kobia is available for €8,166 complete or separately parts.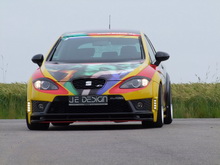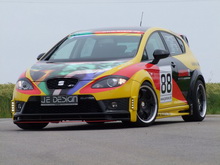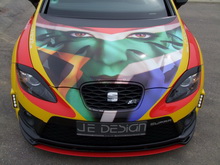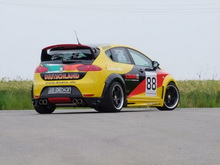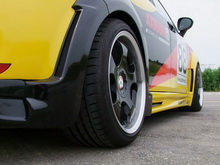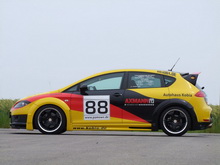 http://www.tuning-links.com/news_837_Seat+Leon+Cupra+R+by+JE+Design.html