100 Tuning Catalogs
06/07/2010 22:58 - admin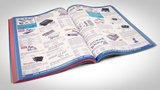 Well....we made it. We've reached a milestone.

2008 OMP Racing Catalo
g was the first one in our list. Then there comes catalogs from one of the biggest brands in the world of tuning like Lorinser, JE Design, Project Kahn, Gemballa, Rieger, Pioneer, Brabus.......
Thеn came
American Muscle
- the 100th catalog that we offer you to download for free.
And we promise to keep you up to date with the latest catalogs for tuning parts, wheels, HiFi, accessories and etc.
http://www.tuning-links.com/news_831_100+Tuning+Catalogs.html