VW Golf R by B&B
05/02/2010 17:05 - admin
The German based VW and Audi tuning specialist B&B has released their performance program for the VW Golf R. The B&B's Golf R is available in three configurations: 310,324 and 362hp.
The acceleration from 0 to 100km/h. is lowered to 4.8sec. for the last modification. The Vmax is over 280km/h. To reach these results the engineers from B&B mounts a bigger turbo charger, sport exhaust system with special downpipe and high performance sports catalysts along with tuned engine electrics, a new optimized air intake, bigger intercooler, and a Slim-Line oil cooler.
For better handling B&B offer their sport springs which lower the car by up to 30mm or special coilovers, adjustable in height, pull and push stages, which allows higher curve speed and the B&B's 8-stroke high quality breaking system.
The only styling change in the exterior will be the addition of exclusive 19 and 20-inch wheels.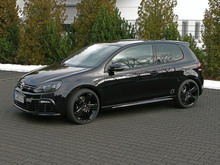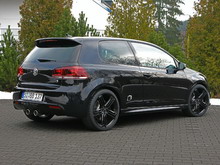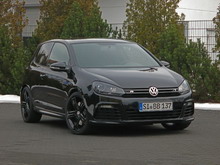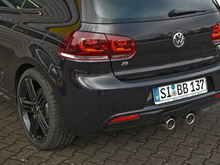 http://www.tuning-links.com/news_787_VW+Golf+R+by+B%26B.html