Nissan GT-R by Tommy Kaira
23/01/2010 19:10 - admin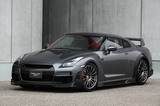 Japanese tuning firm Tommy Kaira show their R35 GT-R at the 2010 Tokyo AutoSalon.
There are two kits available. The full kit consists of a new aero kit trimmed in carbon fiber that includes a wet carbon redesigned front bumper with a lip spoiler, rear wheel arch add-ons, side skirts, a rear wing and a beefier rear diffuser along with an underspoiler. There are optional dry carbon components that can be fitted. These include front fender finishers, ducts and door handle surrounds. The interior boasts a combination of red Alcantara and burgundy colored, hand stitched leather trim with contrasting white seams.Black Recaro bucket seats, unique floor mats and heaps of carbon fiber decorative trim round off the interior upgrades. Black wheels AVS Model F15 Platinum completed with Pirelli P-Zero 255/40R20 and 285/35R20 front and rear tyres respectively.
The second kit is for customers who prefer not to go over the top. It just works on the front end and it is made up of wet carbon for the front bumper, lip spoiler, grille cover, under diffuser and side ducts.
There are other components that were developed such as a high performance titanium exhaust as well as a brake and suspension kit.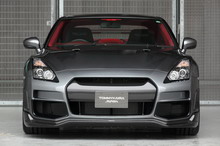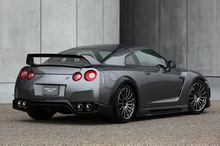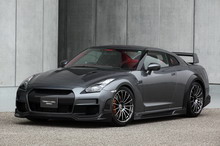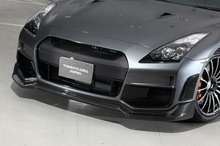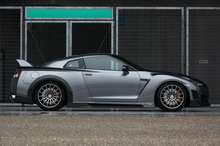 http://www.tuning-links.com/news_778_Nissan+GT-R+by+Tommy+Kaira.html