Ford GT by Geiger
30/11/2009 19:06 - admin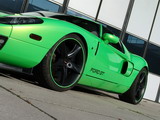 GeigerCars has unveiled their new performance package for the Ford GT.
Dubbed the Geiger HP 790, the package features a larger 4.0-liter compressor (up from the stock 2.3-liter unit), new throttle valves, a sports air filter, improved cooling systems, and revised engine electronics. Thanks to these changes, the supercharged 5.4-liter V8 produces 790 horsepower and 863 Nm of torque. This allows the car to accelerate from 0-100 km/h (0-62 mph) in 3.6 seconds, 0-200 km/h (0-124 mph) in 9.6 seconds, and 0-300 km/h (0-186 mph) in 22.8 seconds. If you keep your foot planted, you'll eventually hit the car's top speed of 360 km/h (224 mph).
Other performance tweaks include a specially-developed coilover suspension (which reduces the ride height by 60mm), a sports exhaust system with two 110mm tail pipes, and massive matt black wheels (9x20 front, 11x21 rear) outfitted with Dunlop SP Sport Maxx tires.
As you may recall, Geiger's original tuning package for the Ford GT (with a 3.3-liter compressor) produced 701 bhp (523kW) and 837 Nm of torque. It ran from 0-100 km/h in 3.5 seconds (0.1 seconds faster than the HP 790) and hit a top speed 340 km/h (211 mph).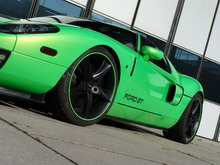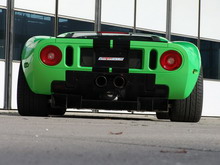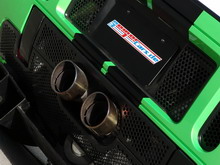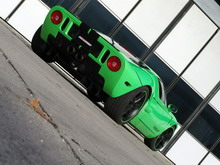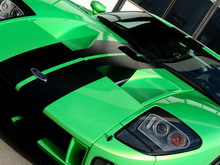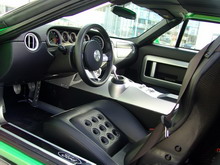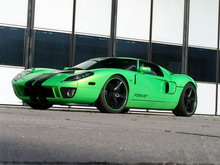 Source: worldcarfans.com
http://www.tuning-links.com/news_743_Ford+GT+by+Geiger.html