Audi A3 Facelift by Caractere
02/03/2009 22:44 - admin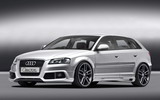 Caractere, car tuning specialist for Volkswagen, Audi and Porsche from Belgium, has released its latest appearance upgrade package for the facelifted 2009 Audi A3.
The kit consists of 2-piece front spoiler, side skirts, a choice of different roof spoilers and rear spoilers.
According to Caractere, the styling kit parts are made of PU and they come with a 5-year warranty (2-year for the exhaust). The Caractere 2009 Audi A3 facelift will also be fitted with 18 and 19-inch wheels.
Source: revmods.com
http://www.tuning-links.com/news_467_Audi+A3+Facelift+by+Caractere.html