Rolls Royce Drophead Coupe Bijan Edition
17/10/2011 23:40 - admin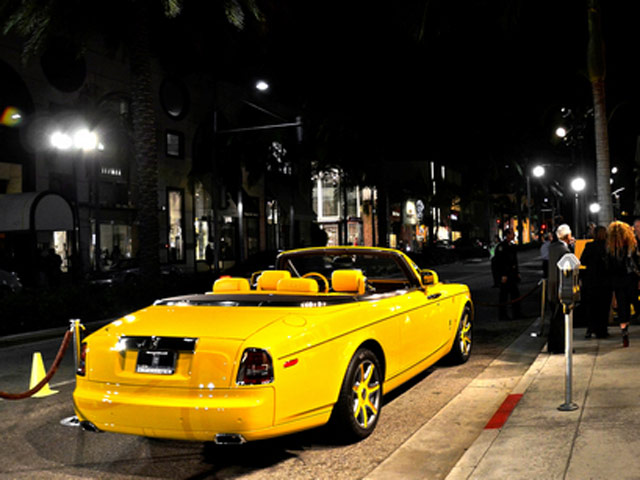 If you ever walk on Rodeo Drive in Beverly Hills you can't miss the Bijan Pakzad's boutique. Mr. Pakzad was a famous Iranian-born designer of menswear. The famous designer has dressed some the most powerful men in America and Hollywood actors like Ronald Reagan, George Bush, Tom Cruise, Tom Ford and Arnold Schwarzenegger.
He is also more popularly known as the designer of the custom yellow Bugatti Veyron.
Almost a year ago at the LA Auto Show he made a partnership with British luxury brand Rolls Royce to design a limited series of Phantom Drophead Coupes named on him - 'Bijan Edition.' Despite his passing on last April the project continued on and few days ago, the first of these special edition models was unveiled in front of his boutique.
Valued between $ 850,000 and $ 1.6 million the Bijan Edition Drophead Coupe got everything that Bijan Pakzad loved alive. From the unmistakable bright yellow color of the luxury cabriolet all the way to the white diamonds embedded in the wood veneer dashboard and the set of crystal glasses tucked in a picnic set in the trunk.
This is the first one of limited series of twelve Drophed Coupes and it is a shame that he is not among us to enjoy this piece of art that he left for the Auto Tuning fanatics like us.
http://www.tuning-links.com/news_2695_Rolls+Royce+Drophead+Coupe+Bijan+Edition.html