Overdrive Show
29/09/2011 22:36 - admin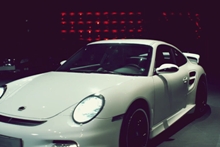 Overdrive is a tuning firm from Bulgaria, known for their tuning projcts based on models from Porsche, Mercedes, BMW, Nissan and etc.
This time they show us their newest project based on the Porsche 997. Shown as a video clip done like an TV series, the demo episode show us the work on its way on the car.
The Porsche 997 is fully treated with TechArt body kit parts. The front and rear bumper were replased with new ones. The front bumper comes with bigger air intakes and LED daytime running lights, giving the car the well known TechArt face lift. The exhoust system recieved new mufflers and the cooler was replaced with bigger one.
The package also include new TechArt brake calipers and discs and interior treatment. The Interior work was done by Vilner - well known Bulgarian studio for interiror design.
Enjoy the full work on the project in the video below.
http://www.tuning-links.com/news_2603_Overdrive+Show.html