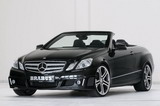 The German tuner, Brabus has unveiled a new tuning program for the 2011 Mercedes E-Class Cabriolet. It covers the whole spectrum, stretching from aerodynamics and engines up to interior and wheels customization. The tuning kit will be available as soon as the car goes into market.
Aerodynamics changes includes front spoiler with integrated LED daytime running lights, front sport fenders with air openings, rear spoiler a rear valance with a centrally mounted reflector as well as left and right cutouts.
Brabus offer choice of 17, 18 or 19-inch wheels. 20-inch option comes later.
The suspension system is dropped by 30 millimeters and a stainless-steel sport exhaust system with four tailpipes fitted for all E-Class Cabriolet models.
Under the hood, Brabus has added ECO PowerXtra performance kits to boost the power of the already impressive 6.1 liter V8 engine which provides in original a total output of 462hp. Once the modification has been made, the power output of the E350 CGI jumps with 18hp while the E250 CDI and E250 CGI get bumped up respectively with 31hp and 26hp. The sprint from 0 to 100km/h is made in 4.7 seconds and reaches a top speed of 300km/h.
The interior is decorated with BRABUS logos and features a branded sports steering wheel and carbon fibre inserts on a number of parts.