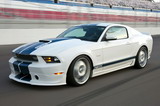 The Shelby team unveiled a supercharged concept version of the 2011 Mustang Shelby at the Barrett-Jackson Auction Opening Night Gala to honor the 45th anniversary of the first GT350 and first Shelby big block Cobra.
The limited edition series is based on the standard Ford Mustang GT and was developed with help from Ford Racing to supercharge the "small block" 5.0 liter V8 engine up to 500 horsepower, as well as to sharpen the handling by supplying new sway bars, struts, and springs as well as adjustable caster/camber plates. The performance package also includes 6-speed manual gearbox Baer brakes and 19-inch Cragar wheels wrapped in Goodyear sport tires.
Exterior touches at the front include a fascia and splitter, along with air scoops on the hood and side skirts. At the rear there is a new fascia too and a deck lid filler panel. GT350 badges are strewn about, and the A-pillar features integrated fuel, oil and boost gauges.
The price for the 2011 Shelby GT350 package is $33,995.