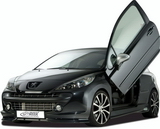 RDX Racedesign – tuners from Germany have designed a new styling kit for the Peugeot 207 and 207 CC. The full kit can be purchased for €590 or you can buy each part separately.
RDX front spoiler can be exchanged with the original front of all 207 models until its facelift in 2009 without any problem. The price is €169 and it includes the mounting material and the grid.
The RDX headlight blends are even easier to fit. For the price of €49 you get blends that can be attached onto the serial lights.
For €169 you get the rear apron attachment for all 207 models except the SW. It is suitable for use with the serial exhaust or any one or two-sided sport systems. The attachment comes with required mounting material.
The RDX side skirts can be attached to all two- and three-door 207-models including the CC. The price: €169.
The last part of this tuning package is the RDX roof spoiler. Made for all 207-models except the CC and SW it comes for €99.
RDX covers each part under a two-year warranty. The bodykit for the Peugeot 207 and 207 CC should be available from the RDX Racedesign webshop soon.